Santa Elena Tree Services LLC was established more than 14 years ago, as a locally-owned and operated tree service in the Falls Church VA area. We were founded on the values of dependability, trust, experience, quality and low prices. Our stuff of tree experts specializes in a full range of tree care services for your home or office, including hard-to-remove trees, emergency services, pruning, trimming, stump grinding and tree removal, fertilization and tree diagnostics.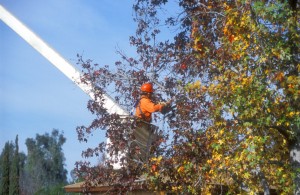 Santa Elena Tree Services LLC's employs some of the top professionals in the tree-care business. We come on time, treat customers with consideration and care, share our knowledge and experience and follow through with our commitments. We take seriously our commitment to your safety and ours; ensuring that our professionals utilize the best equipment, follow industry safety recommendations, rules and regulations. We also stand ready to provide you with the appropriate insurance and liability credentials so you can expect the best and you will get it. Our tree professionals are will make sure your trees are properly cared for and maintained, which will enhance the value and beauty of your home and property.
Since Santa Elena Tree Services LLC's services trees of all shapes and sizes, we have a wide range of tools offerings that allow us to handle any project of any size, both safely and efficiently. We also do our part to respect our environment by properly transporting waste materials (trees, bushes, limbs, shrubs) to recycling facilities for future environmental benefit. As a company that has trees at the heart of our business, we think it is our responsibility to our children's future to care and nurture the environment.
Call us now!
Address: 3222 Glen Carlyn Road Falls Church, VA 22041
Phone: (703) 845-3454